MILO – Penquis Valley High School jumped out to an early lead, 9-3 before being up 12-5 after the first quarter and as much as 22-7 in the opening half, on the way to a 52-24 victory over Piscataquis Community High School during a Class C North matchup between the regional rivals on Jan. 6.
The now 3-3 Patriots have won three in a row a third of the way into 2021-22, with the 24 points allowed on Jan. 6 matching the team's season-best. In the prior game Penquis also yielded just 24 points in a 37-24 victory vs. Searsport District High School during a New Year's Eve matinee.
PCHS fell to 1-5 with the loss to the Patriots.
In the opening quarter Penquis junior LJ Shaw picked up seven of his game-high 17 points to help his team build its 12-5 advantage after eight minutes. Shaw connected from beyond the 3-point line and had a layup and two more on an offensive rebound put back. Five more field goals over the rest of play would increase Shaw's point total from seven to 17.
A 10-3 run in the second quarter put the home team up by 15, 22-7. Three shots from the floor by sophomore Max Wells accounted for six of these 10 Patriot points. Wells finished the night with 14 points.
He and Shaw combined for 31 of Penquis' 52 points (nearly 60 percent). The Patriot starting five scored 48 of the 52 total points with senior Alvin Robshaw picking up nine, senior Mikal Sickler having six, and junior Nate Lovejoy added a layup for two.
PCHS senior Buddy Hutchins led his team with eight points. Hutchins had two points in each quarter, coming on a trio of shots from the floor and a pair of free throws in quarter No. 2. Senior Trevor Hathorn was next for the Pirates with five points, coming on a second quarter 3-pointer and a pair of foul shots.
The two teams are scheduled to play for a second time at 5 p.m. on Tuesday, Feb. 8 in Guilford.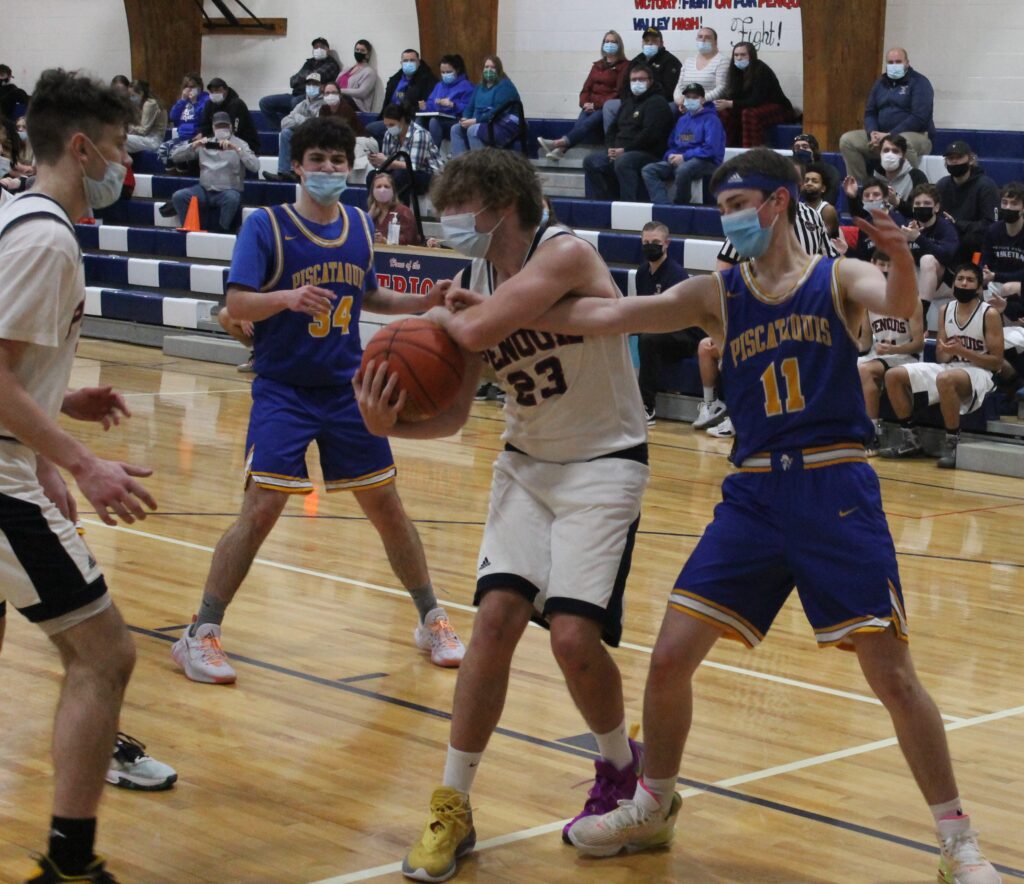 BOYS BASKETBALL
Penquis 52
PCHS 24
PCHS 5 8 5 6 – 24
PENQ 12 14 10 16 – 52
PCHS (1-5): Hutchins 8, Hathorn 5, S. Chadbourne 3,
M. Chadbourne 2, Lyon 2, Snowden 2, Tracy 2.
Penquis (3-3): Shaw 17, Wells 14, Robshaw 9, Sickler 6,
Brown 2, Gahagan 2, Lovejoy 2.